What are the Best Life Rafts for 2022?
Essential for any ocean or sea-going boat, a life raft is one of the few products we hope you never have to use. But what makes a good life raft? The obvious answer is build quality, which is why it's highly recommended that you purchase a life raft from a leading brand such as Crewsaver Life Rafts, Ocean Safety, Seago Life Rafts and Viking. These brands have countless years of experience, with Ocean Safety Life Rafts trusted by the MOD, and Viking Life Rafts found on some of the world's largest cruise ships.
Below, we'll take a closer look at our top five life rafts for 2022.
1. Seago 4 Man ISO 9650-2 Sea Cruiser Life Raft
Size (mm): Valise (600 x 400 x 280) | Container (680 x 430 x 260).
Weight (kg): Valise (25) | Container (32).
Price: Valise (£749.00) Container (£799.00).
Seago's Sea Cruiser Life Raft is a fully approved ISO life raft suitable for coastal sailing and cruising. At just £749.00, the life raft offers high quality equipment at an exceptional price – gone are the days of having to buy a leisure life raft that does not meet industry standards because of worries about budget or servicing costs. For commercial or coded vessels, we recommend purchasing the Seago Sea Master Life Raft.
Key Features:
4 ballast pockets that can hold up to 55 litres of water, ensuring the life raft will not turn over.
Freshwater collection system.
Internal and external lights for maximum visibility, even in the harshest of conditions.
ISO pack containing sea sickness tablets, bailer, drogue, floating knife, flares, oars, hand pump, repair kit and whistle.
Optional life raft cradle (sold separately).
Pressure valve that prevents over inflation.
Ladder and grab lines, so you can get onboard quickly and easily.
Super-fast inflation speed.
Thermal floor layer increases warmth and reduces the risk of hypothermia once in the raft
2. Viking 6 Man ISO 9650-1 RescYou Pro Offshore Life Raft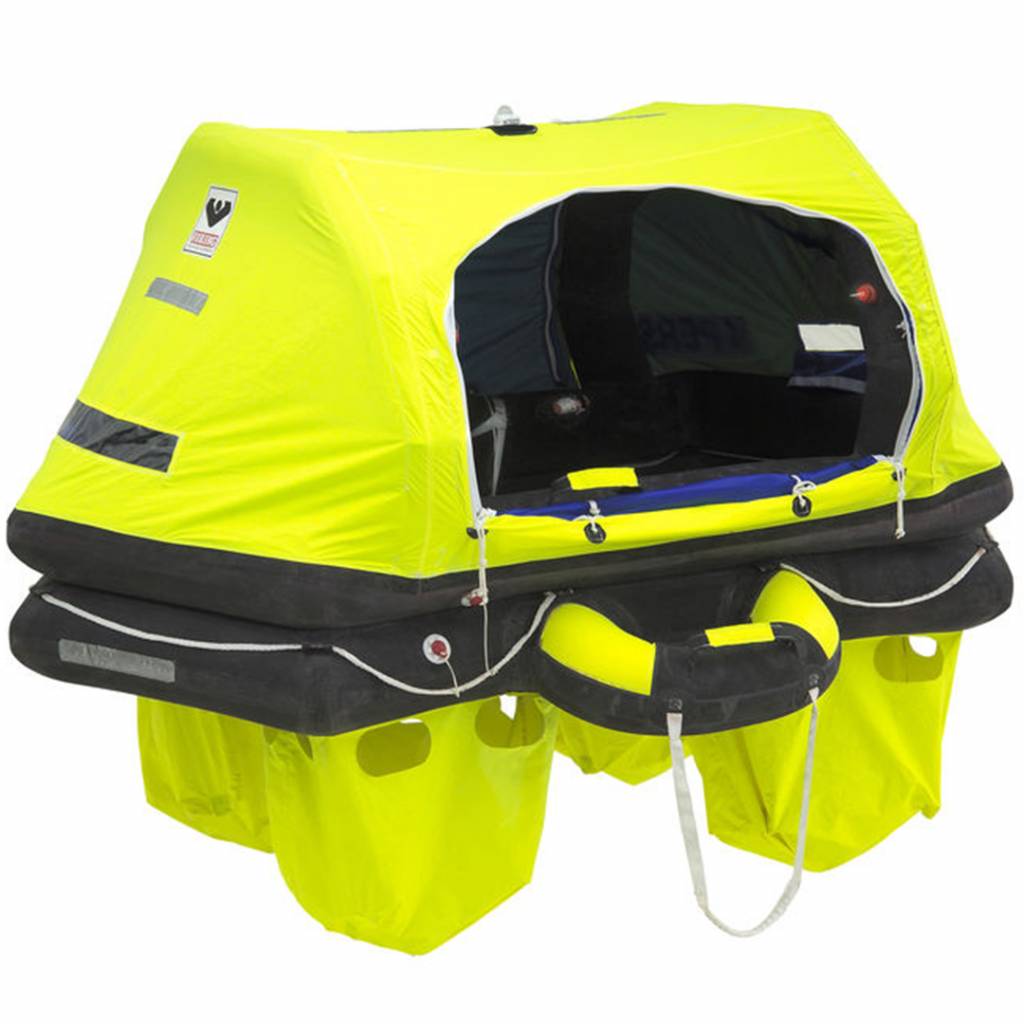 Size (mm): Valise (840 x 450 x 450) | Container (800 x 570 x 350).
Weight (kg): Valise (41) | Container (48).
Price: Valise (£2,699.99) Container (£2799.99).
The perfect choice for ocean sailing, Viking's RescYou Pro is the world's first self-righting life raft and has been hailed by many as the best life raft available by an array of independent sources. The life right self-rights within seconds, ensuring it's ready for boarding within seconds. Furthermore, a fluorescent yellow canopy, certified to the High Visibility Norm EN471 for traffic visibility is easy to spot in bad weather, keeping rescue times to a minimum.
Key Features:
Automatic SOLAS/USCG exterior strobe light and interior light maximises visibility.
Integral double floor for extra protection from hypothermia.
Internal and external lifelines.
ISO 9650-1 certified.
Rainwater collection system.
Sea anchor, rescue quoit and buoyant knife.
Two oversized entrances equipped with a boarding ladder for direct access, as well as boat and helicopter evacuation from within.
3. Ocean Safety 4 Man Ocean Standard Life Raft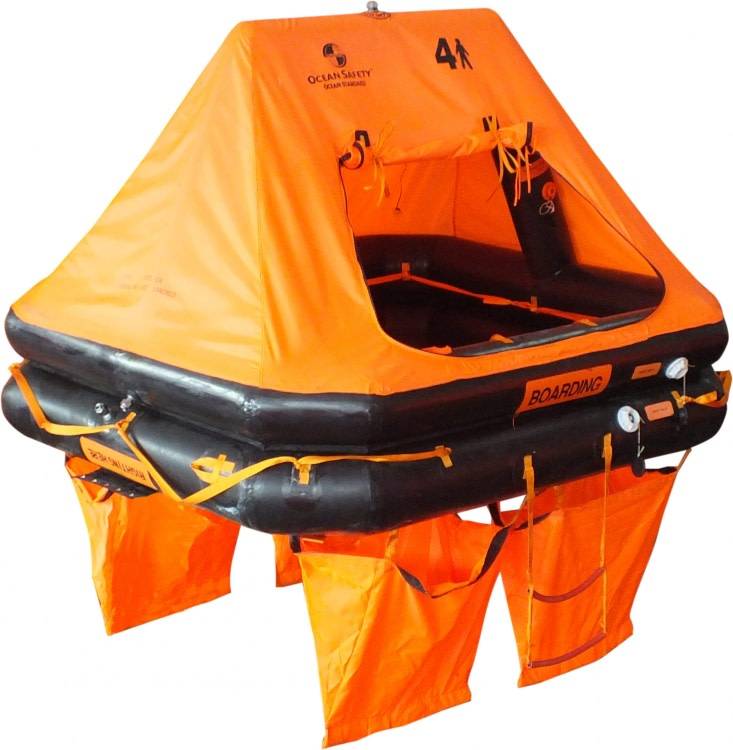 Size (mm): Valise (600 x 240 x 380) | Container (650 x 430 x 280).
Weight (kg): Valise (23.5) | Container (28).
Price: Valise (£749.99) Container (£819.99).
A practical yet affordable entry level life raft suitable for coastal and short offshore recreational sailing. Constructed from high quality rubber with an insulated floor that helps to prevent hypothermia. There's also a rain water collection system as well as a rain water dispenser system.
Key Features:
4 x water pockets that hold up to 30 litres of water, ensuring the life raft will not turn over.
Automatic light and bright orange canopy, making you more visible to search and rescue teams.
Insulated floor helps prevent hypothermia.
ORC safety pack containing a bailer, hand pump, drogue, floating knife, signal cards, oars, red hand flares, repair clamp, rescue quoit, rescue torch and rescue whistle.
Zip closure to help keep you protected from the elements.
4. Lalizas 4 Man Compact Leisure Life Raft – With Canopy.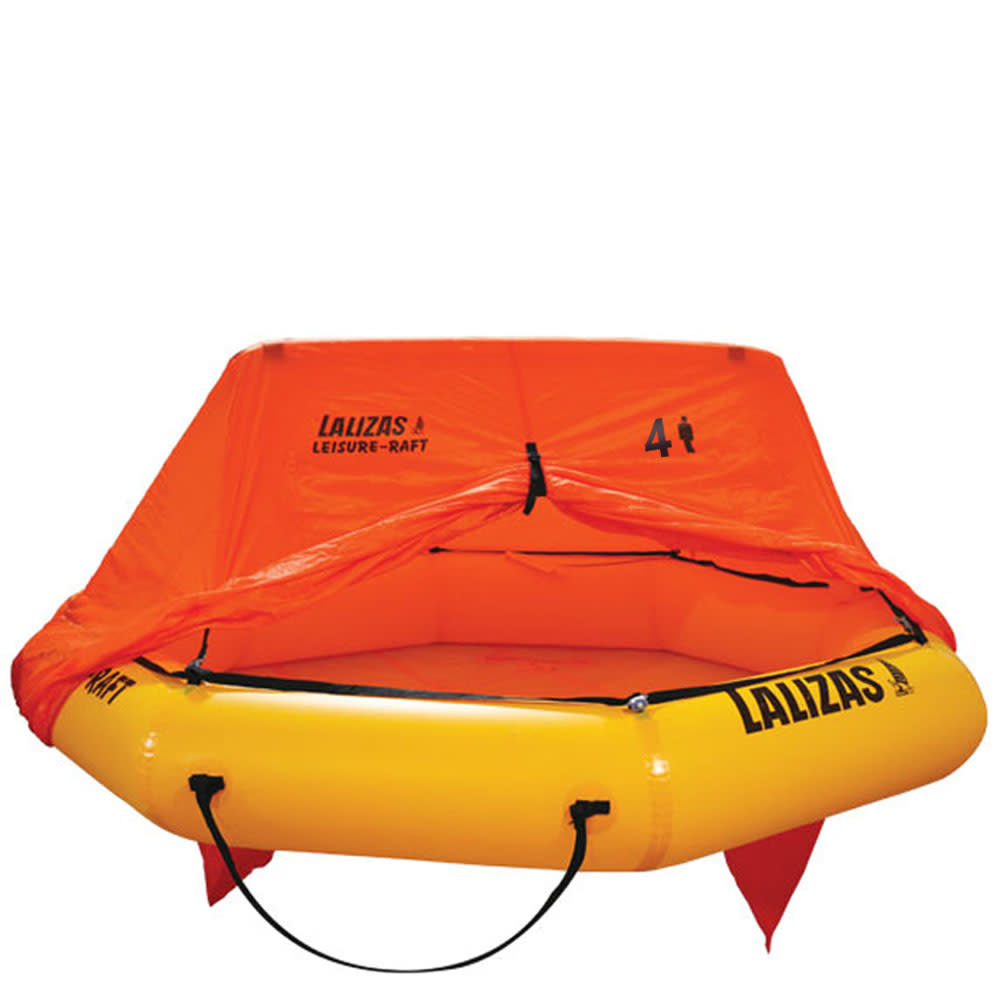 Size (mm): 2004 x 2004 x 1170.
Weight (kg): 9.1kg.
Price: £899.95.
Other Sizes: 6 Man.
Lalizas' 4 Man Compact Leisure Life Raft is perfect for use where space is at a premium, such as small yachts, powerboats, RIBs and light aircraft. Thanks to its small size, the life raft can be deployed quickly and easily, as shown in the video below.
Key Features:
Ballast bags.
CO2 inflation system.
Raft knife.
Water activated locator light.
5. Crewsaver 6 Man Under 24hr ISO 9650-1 Ocean Life Raft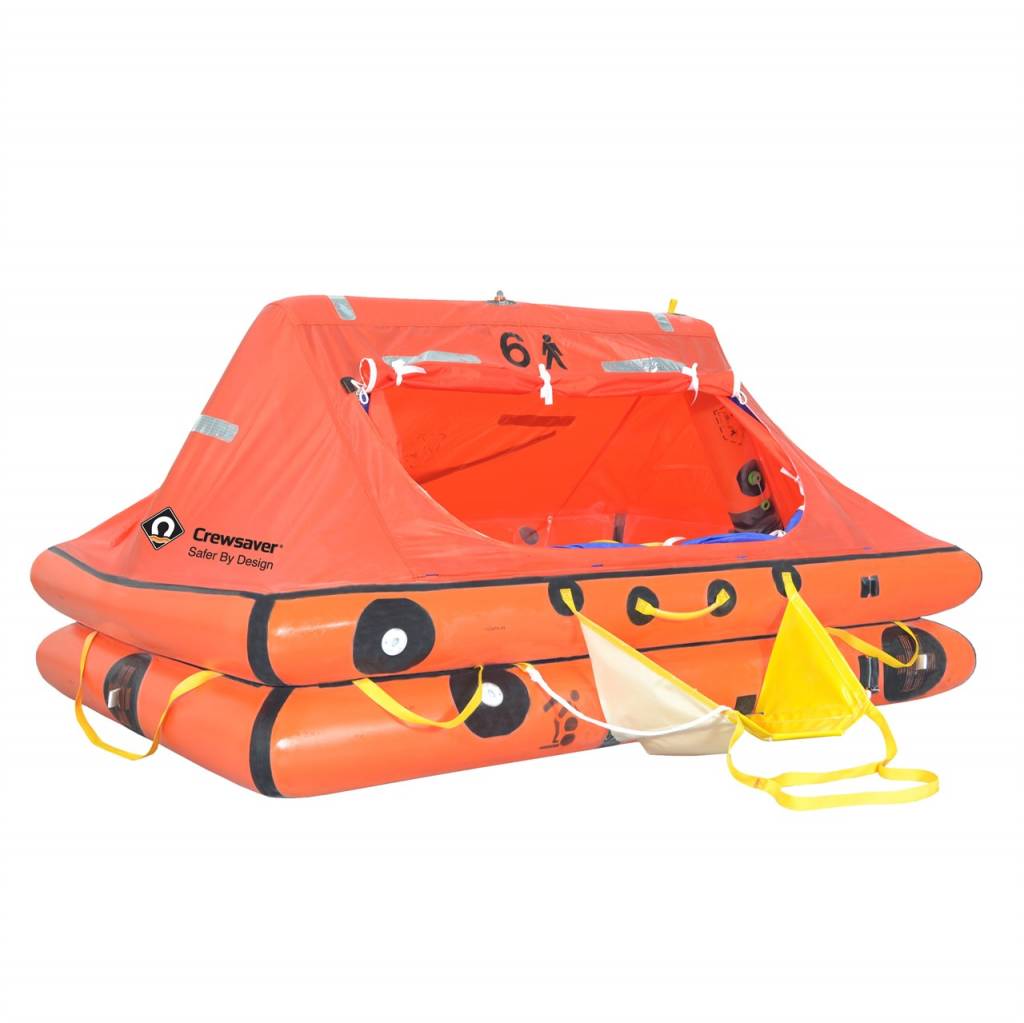 Size (mm): Valise (790 x 500 x 380) | Container (800 x 570 x 300).
Weight (kg): Valise (51.1) | Container (57.7)
Price: Valise (£1,275.00) Container (£1,375.00)
The most advanced specification ISO Ocean life Raft yet, deriving from the skills and expertise in the design and manufacture of Crewsaver Life Jackets and Life Rafts. A semi-rigid boarding ramp ensures quick, easy and safe boarding, whilst interior and exterior lifelines provide additional safety in heavy seas. The life raft is easy to transport, with a choice of a weatherproof valise or sleek, lightweight container with side handles. For offshore sailing, we recommend Crewsaver's 4 Man Over 24hr ISO 9650-1 Ocean Life Raft.
Key Features:
3 year service intervals.
External strobe light that is designed to catch the attention of potential rescuers.
High volume water pockets for additional stability.
Offers superb value thanks to its excellent price and high manufacturing quality.
Rainwater catcher at the rear of the canopy.
Tough, polyurethane coated nylon canopy.
Pirates Cave Provide Quality Life Rafts
So there we have it, our top five life raft picks for 2022. Two honourable mentions are Ocean Safety 2 Man Aero Compact Life Raft – a compact life raft that weighs just 7kg, making it great for small spaces; and Viking 4 Man ISO 9650-1 RescYou Offshore Life Raft – an extremely high spec life raft ideal for cruising.
Allow us to introduce ourselves..
Since our founding over 30 years ago, we've been supplying an excellent range of marine safety equipment including life rafts, life jackets & buoyancy aids, distress flares and man overboard equipment – all sourced from leading brands, including those mentioned above.
Our highly experienced team are here to help, so whether you're stuck for choice between a 4 Man Life Raft, 6 Man Life Raft, 8 Man Life Raft or even 10 Man Life Raft – or have any other questions, get in touch with us today. Call us on 01634 295 233, email [email protected] or visit our Rochester store – one of the largest chandleries in the UK!