Spinlock's New Deckvest VITO Life Jacket
Spinlock combined their latest technology and experience to design a life jacket that meets the exact requirements of the sailors embarking on a round the world journey that will see them face some of the toughest, challenging and extreme conditions in the world. The outcome of this project was the Spinlock Custom VOR 170N Life Jacket.
Spinlock then listened to the feedback and analysis from over 70 crew members at stop-overs during the race to produce this, the Spinlock Deckvest VITO Life Jacket. A product of over three million cumulative miles of testing in tough, ocean racing conditions.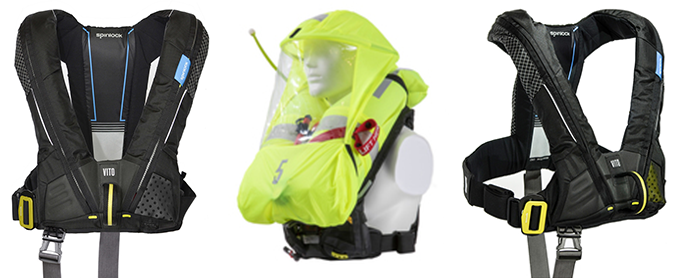 Comfort –
The Spinlock Deckvest VITO is designed to be as comfortable as possible, regardless of the amount of layers you are wearing, enabling you to perform at your peak regardless of the weather conditions. The jacket is easy to adjust to size and provides a fully tailored fit, enabling it to feel lightweight and compact. A structured shape ensures that the VITO does not get tangled so can be put on easily and quickly, even in the dark. Protection in high impact areas has also been added.
The research and development from the Volvo Ocean Race has come to fruition with Spinlock's latest Buckle System and a Coarse and Fine Size adjustment that enables you to easily adjust the life jacket even with cold, wet and tired hands, ensuring a secure and comfortable fit every time.
Safety –
Spinlock have always been known for their constant innovation in life jacket technology, the latest example being the Harness Quick Release System. The Deckvest VITO is the first life jacket to include this revolutionary system. So what is it?
As knives can often be inaccessible and hard to use in an emergency, Spinlock have developed a potentially lifesaving system that opens the harness connection point and releases the user. This system is concealed, yet easy to find and operate in an emergency.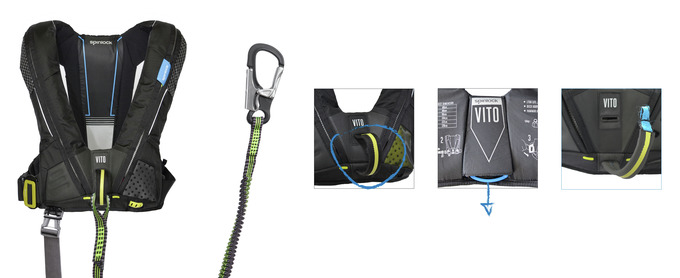 Feedback from the Volvo Ocean Race has also seen the refinement in technology of the 170N bladder, which is protected by a tough, rugged outer cover. This 170N bladder uses a robust Hammar Hydrostatic pressure system that has Spinlock's own extra small CO2 cylinder to reduce bulk.
The life jacket has two lights:
Pylon Life Jacket Light: A high intensity, flexible antenna light with a 10 hour+ run time that deploys upon inflation of the life jacket. 23cm in length, the raised height enables 360 degree visibility, significantly increasing the chances of rescue.
Lume-On Life Jacket Light: A pair of water activated, Dame Award winning lights that use the bladder as a diffuser to increase visibility.
Elsewhere on the VITO life jacket is a re-designed spray hood that helps prevent secondary drowning. This is fitted with a large window to improve visibility and reduce claustrophobia.  An easy to use, highly visible lifting stop is also included, this provides the possibility of easily fitting MOB AIS devices.
There is also an attachment point for a chest pack.
The Spinlock Deckvest VITO Life Jacket is available to pre order with or without the Harness Release System at Pirates Cave Chandlery, with delivery at the end of February 2019. Click on the 'Buy Now' button below to go to the product page.