TeamO's Revolutionary BackTow Life Jacket
This tragic death sparked an idea into the head of Oscar Mead, the youngest person ever to enter and complete the OSTAR single-handed race from Plymouth to Newport, Rhode Island at just 18 years of age.
Over four years, family business TeamO, co-founded by Oscar and his sister, Lauren, have spent four years designing and thoroughly testing a life jacket that will prevent further deaths from the same cause at sea.
The result of this meticulous work is the TeamO BackTow Life Jacket; a life jacket hailed as revolutionary by Practical Boat Owner. The life jacket may look like any other ordinary life jacket, in fact it even clips on at the front like any other life jacket would too, it's when you go overboard whilst tethered when the life jacket really stands out from the competition.
The life jacket will automatically inflate and the BackTow handle will be available to pull, once you pull the handle a clip is released from the front of the body over the shoulder, which will automatically rotate you in the water. A halyard can be clipped on to any part of the BackTow strop and even a small person can then recover the man overboard wearing a TeamO life jacket with the use of a winch. You can see this amazing piece of technology in action in the video embedded below.

TeamO haven't just added BackTow technology to a life jacket and just stopped there. The ISO12402-3 approved life jacket will help you be highly detectible visually and audibly thanks to a built in SOLAS approved water-activated light that has 8 hour continuous operation once activated and is covered by a 5 year warranty. There is also a whistle.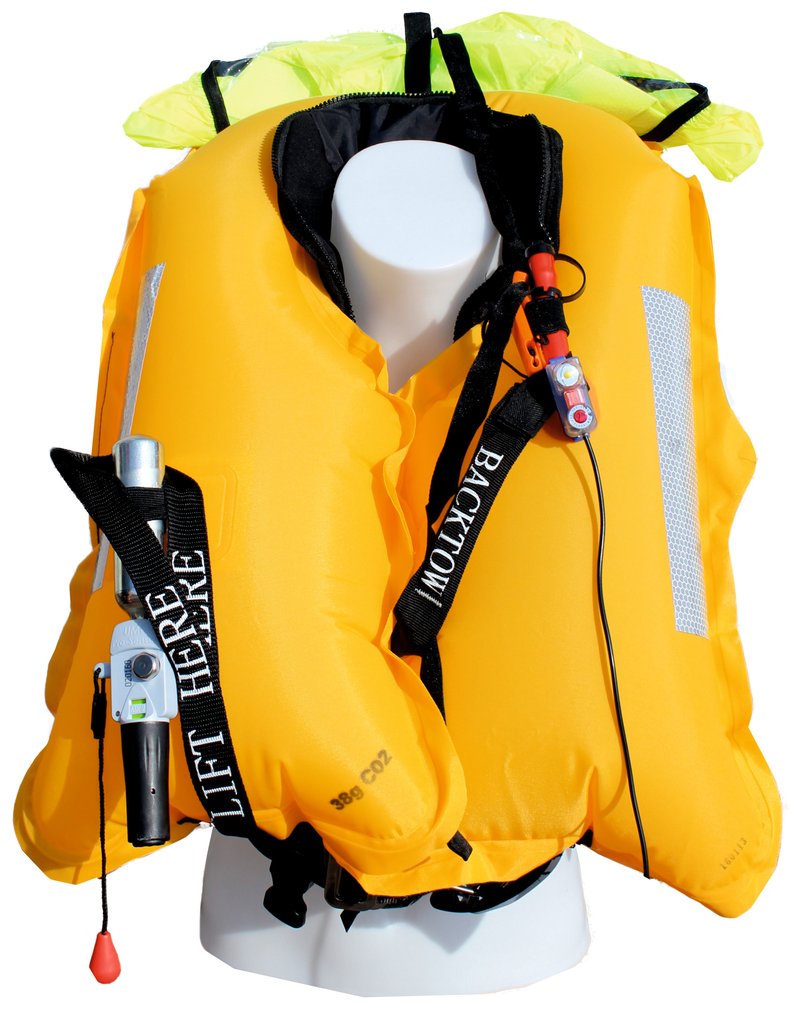 A fully integrated, high visibility sprayhood provides protection from wind and waves aswell as making breathing easier. Simply grab the easily accessible lanyard, pull it over your head and hook it under the bladder. This will significantly reduce the risk of secondary drowning.
There is also an integrated Deck Safety Harness and a Soft Loop Attachment Point, further adding to BackTow's outstanding safety features.
You may fear that all of these excellent safety features have come at the cost of comfort. TeamO have inserted double adjusters on the back of the life jacket that provide a great fit, ensuring that you are comfortable even during periods of long use.
Update - July 2019:
Teamo's 170N Life Jacket has been group-tested with other industry leading life jackets by Yachting Monthly, who after the tests recommended the 170N Life Jacket. 
"The TeamO solution seemed the more sensible to us, particularly for cruising sailors." – Yachting Monthly. Read the full article here.
The TeamO BackTow Life Jacket is available from Pirates Cave in three different colours (Blue, Grey, Black) with 170N (Hammar, Pro Sensor, Manual) and 275N (Pro Sensor) options available.