WavEco's 2.3 Metre Slatted Floor Inflatable Dinghy
Size -
At 230 centimetres long and 140 centimetres wide, there's space for three people on board. A secure wooden bench at the front ensures that you can travel in comfort.
Build Quality -
The dinghy is constructed using 750gram 1100 denier polyester, the best quality polyester featured on any economically priced dinghy on the market. This fabric provides excellent durability yet is still lightweight, making it perfect for use on a dinghy. The polyester fabric is so good, it's covered by WavEco's three-year limited warranty on the seams and cloth.
The stylish blue line that surrounds the dinghy isn't just there as it looks good. It's a medium rubbing strake that will protect fabric when you come alongside something.
Practicality -
The dinghy has a slatted floor which makes it easy to roll up, and with a weight of just 27 kilograms, it's easy to transport. When out of the water, the dinghy can be stored in relatively small spaces, making it extremely practical. As the dinghy has a low profile valve, rolling up and storing the dinghy is a lot easier.
On the exterior are multiple d-rings and a tow line which sits at the front, enabling the dinghy to easily be launched or taken back out of the water.
Safety -
No shortcuts have been taken on safety.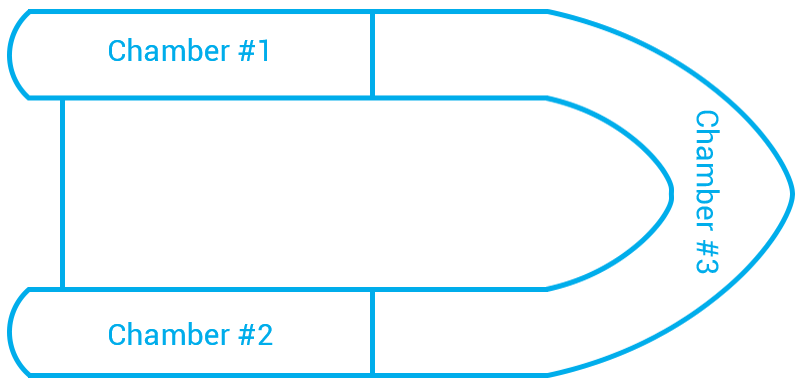 WavEco's lightweight dinghy has three chamber construction. This means that if one chamber gets a puncture, the dinghy won't sink as each chamber is separated by a baffle that extends into the next tube. If the pressure drops in one tube, then the pressure in the two remaining tubes will equalise.
Furthermore, there are grab lines on either side that can either be held on to whilst on the move, or in the event of a man overboard situation, used to grab onto during recovery.
What's Included? –
The inflatable dinghy comes collapsible oars. If you'd rather be powered by an outboard engine, we recommend Mariner's 4-Stroke 2.5hp Short Shaft Outboard Engine which is available here.
Also included is a foot pump, repair kit and a handy valise to put everything in.
The dinghy is available for just £329.95 with next day delivery available if you order before 14:00, or alternatively you can order online and collect on the same day. Scroll down to see the dinghy's full specifications.

Specifications -
Overall Length: 230cm
Overall width: 140cm
Inside length: 134cm
Inside width: 66cm
Weight: 27kg
Floor Type: Slatted
Tube diameter: 37cm
Number of Chambers: 3
Load Capacity: 275kg
Persons: 3
Maximum Authorised Power: 3hp
Maximum Engine Weight: 25kg
Packaged Size: 101 x 60 x 30 cm