Just like its predecessor, Spinlock's Deckvest 6D Automatic Life Jacket is designed for everyone - from experienced and performance sailors to weekend adventurers. 
So what's new?
40mm single leg strap with a stowage pocket that is extra wide and easy to locate.
Cutter attachment point for non-HRS models.
Enhanced back profile for a clean, unobtrusive look and fit.
Enhanced shoulder fit system to provide the perfect fit all day, every day.
Firing system is now on the rear of the bladder for improved comfort and reduced snagging when inflated.
Hard wearing coated fabrics have been added in key areas.
Improved front opening buckle with a smooth body adjuster system.
MOB1 AIS Compatible.
NEW! Sprayhood design with a large clear structured visor that is stored away from the neck.
Setting The Standard:
Spinlock's 6D Deckvest Life Jacket is built to last. The fit and finish is superb and the look and feel is beyond most other life jackets. With a slim, low profile design that doesn't sacrifice safety and buoyancy, this is an ideal adult life jacket for experienced or off-shore sailors where manoeuvrability is paramount and the 170N's features could end up having the greatest impact.
The non-snagging straps keep the flexible life jacket secure and low-profile enough that wearing it becomes a second thought, reducing its impact on your movement and stability. The 3D modelled buoyancy pockets ensure that inflation is fast and airways are kept open even in the event of the wearer falling unconscious.
Pro Sensor Automatic Inflation:
The automatic life jacket uses a pro sensor elite automatic inflator which is 13mm shorter and 4 grams lighter than the original pro sensor automatic inflator used pre-2018. This water sensitive activation system uses a compressed capsule which dissolves when wet, which then releases a spring to puncture the CO2 cylinder. The cap is designed to ensure that only water flowing upwards through the unit will cause it to activate. Water, spray and rain running down the life jacket will not make the life jacket inflate.
The inflator has two indicators that show the status of the CO2 cylinder and the firing head.
Spinlock Harness Release System:
Spinlock's revolutionary Harness Release System directly evolves from the brands' development work with the Volvo Ocean Race. The unique system ensures that a simple release from a safety line, even when fully loaded, is easily accessible with either hand. This significantly reduces the risk of an accidental snag or release.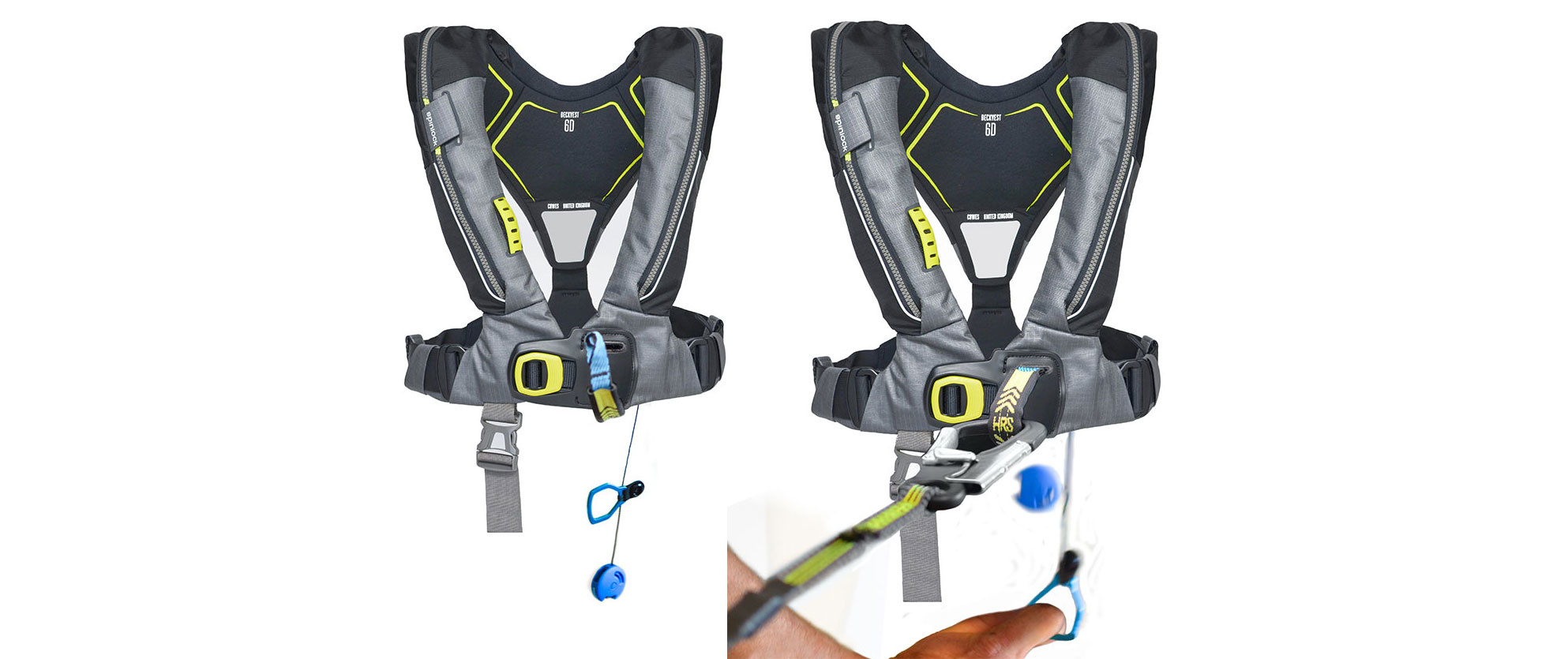 Key Features:
40mm extra wide crotch strap.
5-year warranty on product registration (register here).
Chest pack attachment points.
Covered quick-burst zip.
Highly visible red lifting strap.
Indicator window on rear.
ISO 12402-1 integrated deck harness.
Lightweight soft loop safety line attachment point.
Lume on life jacket light.
Oral inflation tube and whistle.
Pylon 360 degree life jacket light.
Recessed manual activation handle.
Shoulder fit system sits on shoulders for a comfortable fit.
Smooth body adjuster system.
Structured spray hood.
UML pro sensor elite activation system.
Re Arming Kit: 
Spinlock 33g Pro Sensor Elite Life Jacket Re Arming Kit.
Accessories:
Ocean Signal MOB1 RescueME Man Overboard AIS/DSC.
Spinlock Belt Pack.
Spinlock Chest Pack.
Spinlock Deckvest 6D Life Jacket Manual Conversion Kit.
Spinlock Side Pack.
Spinlock Lightweight 1 Clip & 1 Loop Elasticated Performance Safety Line.
Spinlock Lightweight 2 Clip & 1 Link Elasticated Performance Safety Line.
Spinlock Lightweight 3 Clip Elasticated Performance Safety Line.
Spinlock Lightweight 1 Clip & 1 Loop Performance Safety Line.
Spinlock Lightweight 2 Clip Elasticated Performance Safety Line.
Useful Links:
Also available with 275 newtons of buoyancy - see Spinlock Deckvest 6D 275N Automatic Life Jacket.
Blog: The Ultimate Life Jacket Guide.
Blog: Choosing The Right Life Jacket: Automatic v Manual.
Blog: What Life Jacket Buoyancy Do I Need?
Blog: What Size Life Jacket Do I Need?
Blog: Are Self Inflating Life Jackets Reusable?